Three years ago I came to the small town of Menno, South Dakota to serve as pastor of Grace Lutheran Church (NALC/LCMC). It was the first time I had ever heard of this "thing" called Serve. Our town has a population of 608 and five (yes, count them: FIVE) churches. Our churches are Immanuel Lutheran Church (LCMS), Peace Christian Reformed Church, Salem Reformed Church (CCCC), Zion Reformed Church (RCUS) and Grace Lutheran Church, where I currently serve.
For a number of years now, youth from all five of these churches have attended Serve in various locations, from Platte, South Dakota to Newark, New Jersey to Houston, Texas and everywhere in between. I had the privilege of attending as a leader in 2013. Our group went to Houston, Texas, and one of the messages I heard there was that the youth were to take what they had learned from their experience with Serve and to put into action locally. In other words, Serve is not just one week in a place away from home. Serve is also about the other 51 weeks throughout the year.
Some of our other adult leaders who have been active with Serve took that call seriously, and with many brilliant minds TUG was born. TUG stands for Teens United in God. This August will be our third year of TUG. We begin on Friday evening and throughout all day Saturday. The kids do not get to sleep in on Saturday morning. They come early. We eat together. And then we go into our community of 608 people and we work. Last year we helped with cleaning up a rural cemetery and repainting the picnic shelter located there. Another group repainted the dugout shelters at our local softball field. Another group repainted a very large building located on our main street in town. And another group did clean-up and painting at our local park. The kids of Menno, South Dakota and surrounding towns were so diligent in their work, they finished early, so another group repainted a garage (albeit small) in an hour and a half!!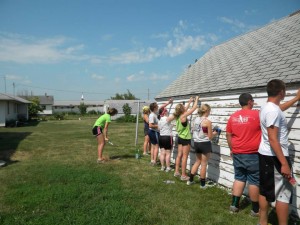 When the kids are finished with a long day of working, it does not stop there. We get together and we worship and sing. We are reminded of why we are doing what we are doing in the first place. God has called us to live out our lives pleasing to him, and because of the gracious gift he has given to us in Jesus Christ, serving our community is the least we can do.
In addition to the kids volunteering, we need many adults to help out. We had entire families helping us that day. This year, we have had people asking what projects the kids are doing for TUG. We now have other groups in town giving donations for TUG.
The local people are looking forward to seeing all the kids and adults out working in the community.
As a pastor of a small town, I cannot even begin to say how proud I am of this community. It is a community filled with faith in Jesus Christ. Yes, we do have residents who do not attend church, who do not believe that God is almighty and loves them so much he would give the greatest sacrifice of all. And it is because of that, that my hope and my prayer is that these kids and their families can be witnesses to the death and resurrection of Jesus Christ.