Looking for fundraising ideas for a short-term mission trip or church youth group?
Your church group is going on a mission trip. That's exciting! But, it can sometimes be difficult for leaders to brainstorm ways for your group as a whole (or individuals going on the mission trip) to raise enough money to go.
We'd like to help you easily come up with some ideas.
Here's a free list of 110 creative fundraising ideas for youth mission trips or other church group mission trips to get you started.
P.S. Want to print this list or read it as an eBook on your Kindle?
Download our entire list of mission trip fundraising ideas as a free PDF here

»
1. Online Fundraising
Sign up on an online fundraising website. Numerous sites allow potential donors to conveniently contribute to your cause. Example: GoFundMe.com.
2. T-Shirt Sale
Design a t-shirt and host a sale for your friends, family and members of your church community.
3. Movie Night
Host a movie night at your church and encourage admission by donation.
4. Use Social Media & Email
Online social media (ex. Facebook, Instagram, Twitter), blogs and email (yes, really!) are great ways to not only increase awareness of your efforts but also many of these outlets provide their own ways to raise funds or contribute to your cause.
5. Partner with a Restaurant
Many local restaurants offer fundraising opportunities, with a portion of the sales going to your cause.
6. Garage Sale
Ask friends, family members and members of your church community to donate items and host a garage sale (yard sale). You could host this in your church's gym or fellowship area.
7. Hold a Competition
Sporting events are great ways to get the community and youth involved in an exciting way. Small prizes for the winners can foster the competitive spirit.

8. Car Wash
Get permission to host your car wash in a safe, moderately trafficked area. Buy supplies and make signs to promote the event.
9. Wall of Giving
Using index cards, fill a wall with numbered cards for people to select and donate the amount from the card.
10. Wrap Christmas Presents
During the Christmas season, some stores will allow you to set up a gift-wrapping table by donation.
11. Loose Change Collection
Contact local businesses and ask permission to set up a change collection jar near the checkout area.
12. Host a Party
Themed parties are a fun way to attract large audiences. An entrance fee is all you would need to aid in your fundraising goals.
13. Silent Auction
Ask members of your church community or local business to donate items to be auctioned off. Each item has a sign-up sheet, where bidders walk up and place their bids on the sheets.
14. Support Letter
Writing a letter asking for support is a classic fundraising idea. Be sure to answer the 5 most important questions: who, what, when, where and why.
15. Partner with Other Local Organizations
Animal shelters, fire departments, your local YMCA and other local organizations are often good places to coordinate fundraising efforts with.
16. Coffee House
Host a coffee house in your church, or pair with a local coffee house to have part of the proceeds go to your fundraiser.
17. Valentines Dinner
Host a Valentine's dinner open to members of the community and charge an admission fee.
18. Spaghetti Dinner
Who doesn't love spaghetti? Hosting a spaghetti dinner is a great way to raise money and provide a meal for the community.
19. Recycle
Set up bags for collecting cans and bottles at your church, school or sporting events. Take the recycled items to a center and collect the refund.
20. Host a Charity Concert
Find a talented band or bands that are willing to play for free or cheap and host a charity concert. Charge an admission fee and sell concessions during the event.
P.S. Want to print this list or read it as an eBook on your Kindle?
Download our entire list of mission trip fundraising ideas as a free PDF here

»
21. Hair Cut-a-Thon
If you know any hairdressers, hosting a cut-a-thon is a great way to raise funds. Ask him or her to donate a day to volunteering to cut hair for donations.
22. Pancake Breakfast
Host a pancake breakfast at your church for the community to come to, and have the funds contribute to your cause.
23. Service Board Day
Create a service board, where church members can post jobs they need done, with the price they are willing to pay. Other church members can then select and complete the jobs, with the proceeds going to your fundraiser.
24. Dodgeball Tournament
Host a dodgeball tournament with a small fee, and have your youth students invite their friends to it, for an enjoyable and exciting activity.
25. Talent Show
Encourage the members of your church to come forward with their various talents, and put on a show for the community to raise funds.
26. 5k Run
5k Runs and Fun Walks are great ways to raise money for your cause while also encouraging the church body and local community to stay active.
27. Chili Cookoff
Host a chili cookoff, with members of your congregation competing for the title of best chili chef! Make sure they cook extra, as the remaining chili can be sold off for more proceeds.
28. Mystery Dinner Theatre
Have your youth students put on a performance, while hosting a dinner for the guests. The dinner-and-a-show combination can even double as a great outreach to your community.
29. Christmas Tree Lighting
Have a tree-lighting event at Christmastime, with a by-donation entrance fee.
30. Craft Sale
Every community has their fair share of craftsmen! Have members of your church body put on a craft show, with the proceeds from the items sold going to your cause.
31. Trivia Night
Host a trivia night at your church, with snacks and refreshment s. It can be Bible trivia, general trivia or whatever category of trivia you prefer! A small entrance fee and charges for refreshments could make a very successful night.
32. Book Sale
Ask members of your congregation to donate books and then host a book sale, open to the community, at your church.
33. Karaoke Night
Host a karaoke night at your church and charge an admission fee or ask for a donation. This is a great event to pair with a raffle.
34. Envelope Fundraising
Set up a display of envelopes numbered 1 – 100. People choose an envelope and put that amount of money into the envelope
35. Lemonade Stand
Set up some lemonade stands in your local community for those hot summer days, with youth members rotating shifts. Encourage homemade lemonade for a more meaningful experience.
36. Carol Sing
Have your church choir, youth worship band or various church members organize a caroling group around Christmastime and carol through your local community. Ask for a small donation after each house you stop at. Or, host a Christmas carol sing-along at church.
37. Recipe Book Sale
Collect a list of recipes from friends, family members and your congregation. Compile the list into a recipe book and sell to members of your community.
38. Sub Sale
Hosting a sub sale is a great idea for around the Super Bowl! Take orders from members of your congregation and your group can make and deliver pre-ordered subs.
39. Rake Leaves
When fall comes around, offer to rake leaves for local homes, and contribute the proceeds to your fundraiser.
40. Work For It!
Have youth members look for part-time or full-time employment, with part of their wages going towards the outreach.
41. Thanksgiving Dinner
Host a Thanksgiving dinner open to members of the community and charge an admission fee.
P.S. Want to print this list or read it as an eBook on your Kindle?
Download our entire list of mission trip fundraising ideas as a free PDF here

»
42. Mow Lawns
Offer to mow local properties in the spring and summer to raise funds.
43. Ice-Cream Social
Host an ice-cream social at your church, with a small entrance fee.
44. Gift Card Raffle
Host a raffle, with the prizes being gift cards to local establishments.
45. Parent's Night Out
Parents can drop their kids off at the church for a night out. The mission's team members plan activities and snacks for the kids. Participation in this night can either be donation based or an amount per child.
46. Online Shopping Fundraiser
Consider using an online shopping fundraiser. Certain sites will offer deals and bargains for online shoppers, with a percentage of sales going to your cause.
47. Dog Walking
Have youth members offer to walk dogs in your area, and contribute the proceeds to your cause. Similarly, when someone goes on vacation, offer to be a dog sitter.
48. Fun Fair
Host a fun fair, with food, drinks, stands and games! Advertise through your local community, and use it as a local outreach.
49. Pledge A Mile
Divide the cost of your missions trip by the number of miles to your destination, and have church and community members pledge to buy a length of the trip.
50. Sports Concession Stand
Ask to set up a concession stand at your local high school, college or professional sporting events, and contribute part of the proceeds to your cause.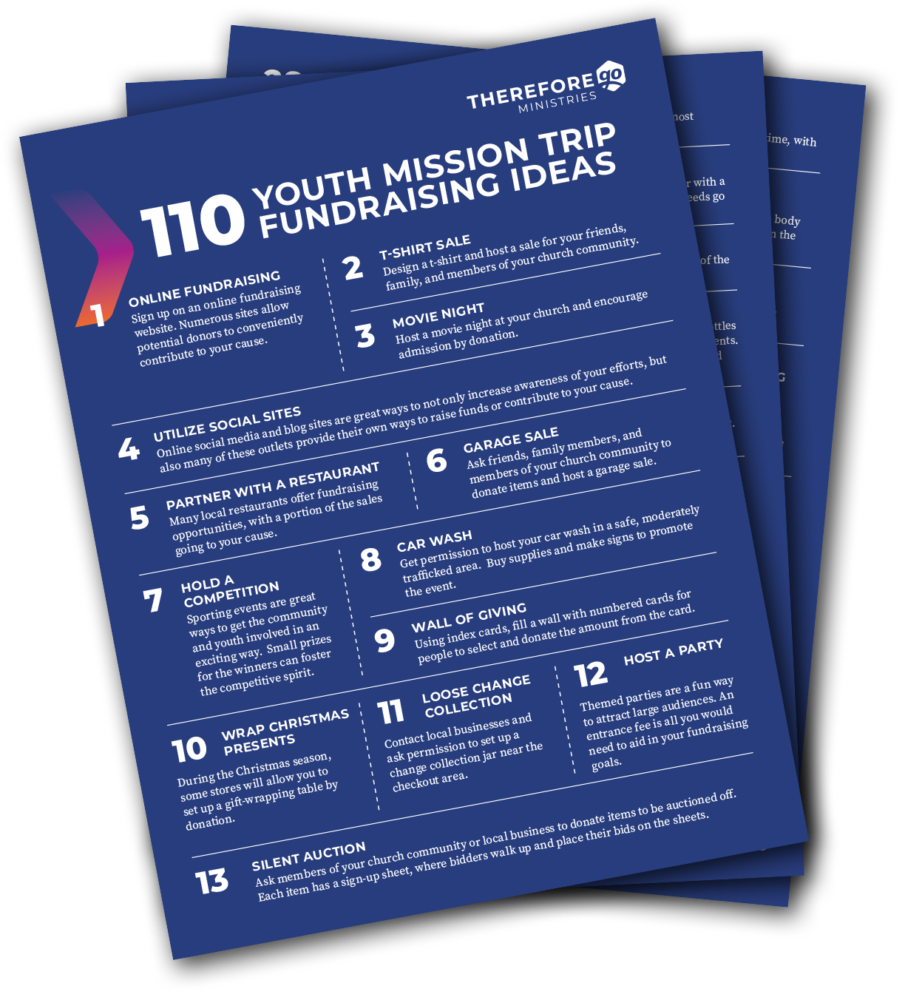 FAQs
The fact is – your mission trip begins when you decide it does. If you are called to do good in the world, your fundraising should also at its core be centered in service.
Raising funds for a youth mission trip can be challenging, yet, keeping service in mind, there are many ways to meet your financial goals. You can..
Auction off items donated by church community families and/or local businesses.
Offer to host a Spaghetti Dinner night at your church – everyone likes homemade meal!
A service board would allow church members to post jobs they need done with the price they're willing to pay. Youth group members can then select and complete the jobs, with the proceeds going to your fundraiser.
Get a free copy of the Complete Guide to Planning a Youth Mission Trip for a comprehensive approach to planning a great mission trip.
If you're interested in giving, you can find ways to support missions trips nationwide here.
Each trip, either long or short-term mission trip is unique.
You will need to read through what mission trips are available, and what they aim to do to improve the communities in which they witness.
Find out the specifics on our list of mission trips here and see what calls out to you.
ThereforeGo (formerly "YouthUnlimited") provides opportunities for youth group mission trips in the USA and Canada.
This means we provide both domestic and international youth mission trips (because of COVID-19, all 2021 trips require groups to stay in their own country – learn more).
Specific destinations (we call them "SERVE sites") include everything from larger cities to smaller towns in rural areas. And in 2021, we even have a mission opportunity for serving your own local community (called SERVE@Home).